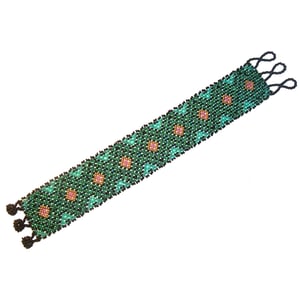 $

34.00
See our new website www.cosasbonitasoregon.com where we have many more pieces of Huichol art and other fair trade Latin American folk art! Sign up for our newsletter and receive a 10% coupon to apply toward a purchase! You may also purchase this item here, at our Big Cartel website. The workmanship and artistry is exceptional in this two-tone dark and light emerald green bracelet edged in black. The color combinations are unique and beautiful. The pattern includes small diamonds of gold and rose. You won't be disappointed in this work of art! The dimensions are 8 inches from the end of the balls to the end of the loops and just over an inch wide. This would fit a medium to large wrist. Be sure to click each of the pictures, which expands for a closer look at the detail. Also, the middle picture is taken with the bracelet hanging over an edge to give another good view of the colors and detail.
The bracelets that we carry are very smooth on the skin and extremely durable. Breakage is never a problem due to the quality of workmanship and strong nylon used. In the event that it breaks, we will replace it at no charge. The balls are always a perfect size for the loops. There are two size settings being that the balls may be inserted in the loop or into the triangle that is next to the edge of the bracelet. If the triangle next to the edge of the bracelet is used the remaining loop can be folded over the ball, finishing off the fastening.
This three-ball beaded bracelet is made by the same group of Huichol families that create all of the beaded art in our store. It is meticulously made using needles, not looms.
As is all of our art, it is acquired adhering to fair trade principles. Our artists are able to remain in their villages and are paid higher than the going rate. The beads and other supplies are also provided to them.
We purchase basic insurance when we ship which adds a small amount to the shipping cost.
For international shipping, ask for a quote.