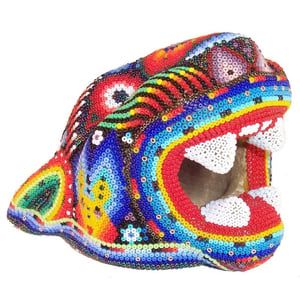 $

125.00
See our new website www.cosasbonitasoregon.com where we have many more pieces of Huichol art and other fair trade Latin American folk art! Sign up for our newsletter and receive a 10% coupon to apply toward a purchase! Jaguar heads are available on our website most of the time.
This exquisite jaguar head is a very traditional animal for Huichol artists. The tiny chaquira, or seed beads, are applied by coating the surface of the wood carving with a special beeswax mixture. Then the beads are applied one by one. The vision of the artist comes to life as the beads are applied. The beading is perfect with every bead in place. This can easily be seen by clicking on each image where it will expand, showing the incredible detail of this art.
The sacred symbols used in this piece are scorpions, peyote and deer symbols respectively symbolizing the protector of the peyote, success in life and messenger from the gods. Yellow deer symbols adorn each cheek and a fabulous blue/white peyote symbol covers the back of the head. Scorpions surround it Another large peyote covers the nose. The dimensions are 3 inches tall, 3.25 inches wide and 4 inches front to back.
Seen in real life this jaguar comes to life and is imbued with the Huichol connection to the spirit world.
Because the smaller size 14 beads are used instead of the larger size 11, the level of skill and artistry required is very high. The quality of the carving and beading will amaze you!
SEE THE FAQ TO YOUR LEFT FOR AN INTRODUCTION OF THIS HUICHOL ART OR CLICK "BACK TO SITE" AT THE TOP OF THE PAGE FOR AN IN-DEPTH EXPLANATION OF THESE PARTICULAR HUICHOL INDIANS AND THEIR ART.
Do not place this art in hot direct sunlight. This may soften the beeswax. Otherwise, with gently handling, this art will stay in perfect shape.